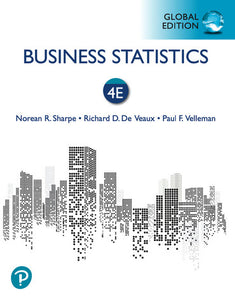 product title:

Business Statistics, 4th Global Edition, e-book

ISBN: 9781292269375

* You will receive the access code for digital products between 24 to 48 hours.


Norean D. Sharpe
Richard D. De Veaux Williams College
Paul F. Velleman Cornell University


Business Statistics narrows the gap between theory and practice by focusing on relevant statistical methods, thus empowering business students to make good, data-driven decisions.

Using the latest GAISE (Guidelines for Assessment and Instruction in Statistics Education) report, which included extensive revisions to reflect both the evolution of technology and new wisdom on statistics education, this edition brings a modern edge to teaching business statistics. This includes a focus on the report's key recommendations: teaching statistical thinking, focusing on conceptual understanding, integrating real data with a context and a purpose, fostering active learning, using technology to explore concepts and analyse data, and using assessments to improve and evaluate student learning. By presenting statistics in the context of real-world businesses and by emphasising analysis and understanding over computation, this book helps students be more analytical, prepares them to make better business decisions, and shows them how to effectively communicate results.
This product will be supplied on the Vital Source Bookshelf platform which  gives you access to your ebook and a full suite of study tools on any device—both online and offline. Click the link below for more details.
https://support.vitalsource.com/hc/en-us/articles/4403853719191-Bookshelf-eTextBook-Features
Full instructions on how to redeem your code will be sent to you upon purchase.
Adding product to your cart
Use left/right arrows to navigate the slideshow or swipe left/right if using a mobile device