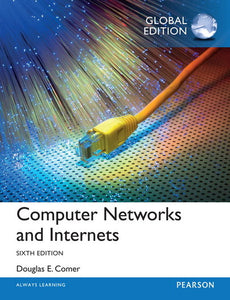 product title:

Computer Networks and Internets, 6th Global Edition, e-book

ISBN: 9781292061825

* You will receive the access code for digital products between 24 to 48 hours.


Douglas E Comer Purdue University
Appropriate for all introductory-to-intermediate courses in computer networking, the Internet, or Internet applications; students need no background in networking, operating systems, or advanced mathematics.

Leading networking authority Douglas Comer presents a wide-ranging, self-contained tour of the concepts, principles, and technologies that enable today's Internet to support applications ranging from web browsing to telephony and multimedia. Comer begins by illuminating the applications and facilities offered by today's Internet. Next, he systematically introduces the underlying network technologies and protocols that make them possible. With these concepts and technologies established, he introduces several of the most important contemporary issues faced by network implementers and managers, including quality of service, Internet telephony, multimedia, network security, and network management. Comer has carefully designed this book to support both top-down and bottom-up teaching approaches. Students need no background in operating systems, and no sophisticated math: Comer relies throughout on figures, drawings, examples, and analogies, not mathematical proofs.

This product will be supplied on the Vital Source Bookshelf platform which  gives you access to your ebook and a full suite of study tools on any device—both online and offline. Click the link below for more details.
https://support.vitalsource.com/hc/en-us/articles/4403853719191-Bookshelf-eTextBook-Features
Full instructions on how to redeem your code will be sent to you upon purchase.
Adding product to your cart
Use left/right arrows to navigate the slideshow or swipe left/right if using a mobile device