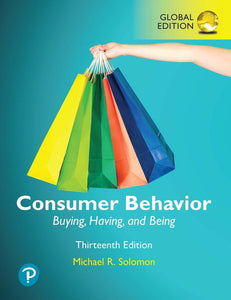 product title:

Consumer Behavior: Buying, Having, and Being, 13th Global Edition, E-Learning with e-book, MyLabMarketing

ISBN: 9781292318233

* You will receive the access code for digital products between 24 to 48 hours.
Michael R. Solomon St. Joseph's University
 A #1 best-selling text for consumer behaviour courses, Solomon's Consumer Behavior: Buying, Having, and Being covers what happens before, during, and after the point of purchase. It investigates how having (or not having) certain products affects our lives; specifically, how these items influence how we feel about ourselves and each other, especially in the canon of social media and the digital age. In the 13th Edition, up-to-date content reflects major marketing trends and changes that impact the study of consumer behavior. Since we are all consumers, many of the topics have both professional and personal relevance to students. This makes it easy to apply the theory outside of the classroom and maintain an edge in the fluid and evolving field of consumer behaviour.
MyLab™ Marketing is the teaching and learning platform that empowers you to reach every student. By combining trusted author content with digital tools and a flexible platform, MyLab personalizes the learning experience and improves results for each student.
Please note - After purchasing, you will receive an e-mail with an access code and details on how to log in. You will need a Course ID to access the E-learning content.
There are two ways you can access your product:
Your instructor or lecturer has provided you with a Course ID for your course
Or You access the Self-study course by entering this Course ID: nordic29170
Adding product to your cart
Use left/right arrows to navigate the slideshow or swipe left/right if using a mobile device