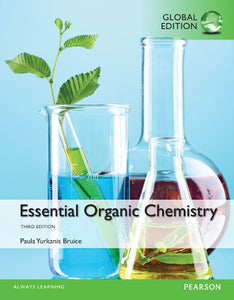 product title:

Essential Organic Chemistry, 3rd Global Edition E-Learning with e-book MasteringChemistry

ISBN: 9781839614118

* You will receive the access code for digital products between 24 to 48 hours.
Paula Yurkanis Bruice University of California, Santa Barbara
Modern and thorough revisions to the streamlined, Essential Organic Chemistry focus on developing students' problem solving and analytical reasoning skills throughout organic chemistry. Organised around reaction similarities and rich with contemporary biochemical connections, Bruice's 3rd Edition discourages memorisation and encourages students to be mindful of the fundamental reasoning behind organic reactivity: electrophiles react with nucleophiles.
Developed to support a diverse student audience studying organic chemistry for the first and only time, Essentials fosters an understanding of the principles of organic structure and reaction mechanisms, encourages skill development through new Tutorial Spreads and and emphasises bioorganic processes.
MasteringChemistry™ is the teaching and learning platform that empowers you to reach every student. By combining trusted author content with digital tools and a flexible platform, Mastering personalizes the learning experience and improves results for each student.
Please note - After purchasing, you will receive an e-mail with an access code and details on how to log in. You will need a Course ID to access the E-learning content.
There are two ways you can access your product:
Your instructor or lecturer has provided you with a Course ID for your course
Or you access the Self-study course by entering this Course ID: nordic63301
Adding product to your cart
Use left/right arrows to navigate the slideshow or swipe left/right if using a mobile device