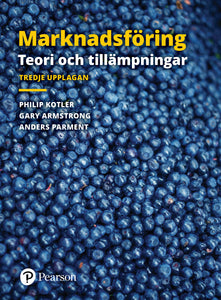 product title:

Marknadsföring: Teori och tillämpningar, 3rd edition e-book

ISBN: 9781292404493

* You will receive the access code for digital products between 24 to 48 hours.
Anders Parment Stockholm Business School, Stockholms universitet.

Dr Philip Kotler S.C. Johnson & Son Distinguished Professor of International Marketing vid Kellogg School of Management vid Northwestern University.

Gary Armstrong Blackwell Distinguished Professor Emeritus of Marketing vid Kenan-Flagler Business School, University of North Carolina at Chapel Hill. 

 

Marknadsföring: Teori och tillämpningar utgör en utmärkt och uppskattad introduktion till marknadsföringsområdet. Boken utgår från Kotlers och Armstrongs teori- och modellvärld och knyter an till den referensram som miljontals marknadsförare världen över använder som utgångspunkt för marknadsföringsbeslut. Den nya upplagan har reviderats och uppdaterats både i teoridelen och när det gäller exempel. En mängd nya case har tillkommit inom bland annat delningsekonomi, hållbarhet och digitalisering - och Corona-pandemins effekter på företags marknadsföring har integrerats. Hållbarhetsperspektivet har utvecklats, med stark betoning på konsumtionssamhällets sociala, ekonomiska och miljömässiga konsekvenser. Introduktionskapitlet, liksom kapitlen om marknadskanaler och marknadskommunikation, är kraftfullt reviderade.

 Marknadsföring: Teori och tillämpningar erbjuder

 • En unik kombination av ett svenskt och ett internationellt perspektiv

• Klassiskt marknadsföringstänkande i kombination med aktuell forskning - pedagogiskt förklarat och illustrerat

• Aktuella exempel från ett stort antal branscher, inklusive offentlig sektor och civilsamhället

 

This product will be supplied on the Vital Source Bookshelf platform which  gives you access to your ebook and a full suite of study tools on any device—both online and offline. Click the link below for more details.

https://support.vitalsource.com/hc/en-us/articles/4403853719191-Bookshelf-eTextBook-Features

Full instructions on how to redeem your code will be sent to you upon purchase.
Adding product to your cart
Use left/right arrows to navigate the slideshow or swipe left/right if using a mobile device