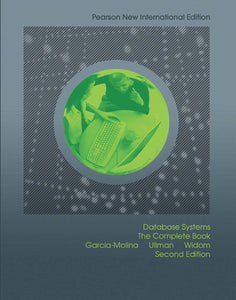 product title:

Database Systems, Pearson New International 2nd Edition, e-book

ISBN: 9781292037301

* You will receive the access code for digital products between 24 to 48 hours.
Hector Garcia-Molina
Jeffrey D. Ullman Stanford University
Jennifer Widom
For Database Systems and Database Design and Application courses offered at the junior, senior and graduate levels in Computer Science departments.

Written by well-known computer scientists, this introduction to database systems offers a comprehensive approach, focusing on database design, database use, and implementation of database applications and database management systems.

The first half of the book provides in-depth coverage of databases from the point of view of the database designer, user, and application programmer. It covers the latest database standards SQL:1999, SQL/PSM, SQL/CLI, JDBC, ODL, and XML, with broader coverage of SQL than most other texts. The second half of the book provides in-depth coverage of databases from the point of view of the DBMS implementor. It focuses on storage structures, query processing, and transaction management. The book covers the main techniques in these areas with broader coverage of query optimisation than most other texts, along with advanced topics including multidimensional and bitmap indexes, distributed transactions, and information integration techniques.
This product will be supplied on the Vital Source Bookshelf platform which  gives you access to your ebook and a full suite of study tools on any device—both online and offline. Click the link below for more details.
https://support.vitalsource.com/hc/en-us/articles/4403853719191-Bookshelf-eTextBook-Features
Full instructions on how to redeem your code will be sent to you upon purchase.
Adding product to your cart
Use left/right arrows to navigate the slideshow or swipe left/right if using a mobile device