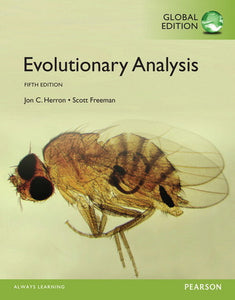 product title:

Evolutionary Analysis, 5th Global Edition, e-book

ISBN: 9781292082684

* You will receive the access code for digital products between 24 to 48 hours.
Scott Freeman University of Washington
Jon C. Herron University of Washington
By presenting evolutionary biology as a dynamic, ongoing research effort and organizing discussions around questions, this best-selling text helps students think like scientists as they learn about evolution. The authors convey the excitement and logic of evolutionary science by introducing principles through recent and classical studies, and by emphasizing real-world applications.
In the Fifth Edition, co-author Jon Herron takes the lead in streamlining and updating content to reflect key changes in the field. The design and art program have also been updated for enhanced clarity.
Inquiry-Driven Presentation presents basic principles of evolutionary biology through the analysis of new and classical research studies. This trains students to think like scientists by evaluating hypotheses, considering experimental design, analyzing data, and highlighting new questions for future research.
Evolution presented as a process enables students to make connections as they see a scientific theory from observation, through testing and data analysis.
Updated coverage throughout includes the latest research and examples, giving students access to the most current developments in the field.
Author-developed illustration program includes diagrams, data-graphics, and full-colour photographs throughout. This ties the illustrations closely to the text, making the overall presentation more accessible to students.
The book's traditional emphasis on scientific reasoning has been maintained and enhanced. For example, every chapter begins with a one-page case study, typically including both a photo and dataset, that presents a research question and a study that answers it. These cases serve to introduce the kinds of problems and research programs that will be covered in the chapter.
Streamlined and updated content in every chapter reflects key changes in the field and incorporates new research and examples. A few key highlights are listed below.
Heavily revised Chapter 1 (Understanding HIV) includes updated statistics on the status of the pandemic, newer thinking on how HIV causes AIDS, new data on the origin of HIV, and new ideas and evidence on why HIV is lethal.

This product will be supplied on the Vital Source Bookshelf platform which  gives you access to your ebook and a full suite of study tools on any device—both online and offline. Click the link below for more details.
https://support.vitalsource.com/hc/en-us/articles/4403853719191-Bookshelf-eTextBook-Features
Full instructions on how to redeem your code will be sent to you upon purchase.
Adding product to your cart
Use left/right arrows to navigate the slideshow or swipe left/right if using a mobile device