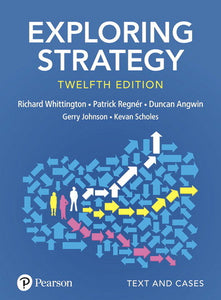 product title:

Exploring Strategy 12th edition E-Learning Revel™

ISBN: 9781292321646

* You will receive the access code for digital products between 24 to 48 hours.
Richard Whittington Said Business School, University of Oxford
Patrick Regnér Stockholm School of Economics
Duncan Angwin Oxford Brookes University
Gerry Johnson Lancaster University School of Management
Kevan Scholes Sheffield Hallam University
Understand basics and develop expertise to think and behave like a manager

Exploring Strategy, 12th Edition, by Whittington, Angwin, Regner, Johnson and Scholes has long been the essential introduction to strategy for the managers of today and tomorrow and has sold over one million copies worldwide. From entrepreneurial start-ups to multinationals, charities to government agencies, this book raises the big questions about organisations – how they prosper, how they grow, how they innovate and how they change.

Examples are taken from events and organisations as diverse as Adnams, Siemens, Air Asia, Apple, Handelsbanken, Glastonbury and the Indian Premier League.

New to this edition:

The 12th Edition of Exploring Strategy has been comprehensively updated to help you:

· Understand clearly the key concepts and tools of strategic management

· Explore hot topics, including business models, corporate governance, innovation and entrepreneurship

· Learn from case studies on world-famous organisations such as ITV, IKEA, Uber, Airbnb, Alibaba, and the Chinese movie business.
Revel is Pearson's newest way of delivering our respected content. Fully digital and highly engaging, Revel replaces the textbook and gives students everything they need for the course. Informed by extensive research on how people read, think, and learn, Revel is an interactive learning environment that enables students to read, practice, and study in one continuous experience – for less than the cost of a traditional textbook.
Please note - After purchasing, you will receive an e-mail with an access code and details on how to log in.
Adding product to your cart
Use left/right arrows to navigate the slideshow or swipe left/right if using a mobile device