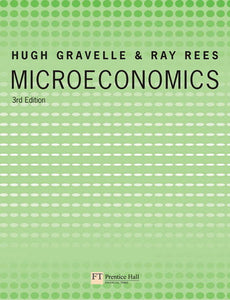 product title:

Microeconomics, 3rd edition e-book

ISBN: 9781405890779

* You will receive the access code for digital products between 24 to 48 hours.
Hugh Gravelle Centre for Health Economics, University of York
Ray Rees Ludwig Maximilians University, Munich
This is a standard text for upper level undergraduate/postgraduate microeconomics. The book begins at the intermediate level and ends at a level appropriate for the graduate student. Updated and revised, this is a new edition of one of the best-selling advanced microeconomics texts to be published in Europe. This well informed book provides a comprehensive exposition of modern microeconomic theory, covering many of the issues currently being researched and debated. The book offers very rigorous, mathematical treatment of the topics discussed making it appropriate for graduate as well as able intermediate level students. The writing style is clear and concise and the book is particularly liked for the thoroughness with which the concepts are dealt.
This product will be supplied on the Vital Source Bookshelf platform which  gives you access to your ebook and a full suite of study tools on any device—both online and offline. Click the link below for more details.
https://support.vitalsource.com/hc/en-us/articles/4403853719191-Bookshelf-eTextBook-Features
Full instructions on how to redeem your code will be sent to you upon purchase.
Adding product to your cart
Use left/right arrows to navigate the slideshow or swipe left/right if using a mobile device