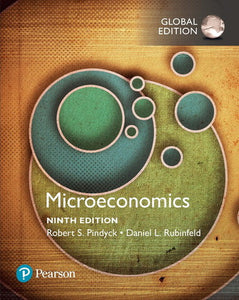 product title:

Microeconomics, 9th Global Edition, e-book

ISBN: 9781292213378

* You will receive the access code for digital products between 24 to 48 hours.
Robert Pindyck MIT
Daniel Rubinfeld University of California, Berkeley
For Intermediate Microeconomics courses.

Microeconomics exposes students to topics that play a central role in microeconomics. From game theory and competitive strategy, to the roles of uncertainty and information, and the analysis of pricing by firms with market power, the text helps students understand what's going on in the world of business. It also shows students how microeconomics can be used as a practical tool for decision-making and for designing and understanding public policy. The 9th Edition further illustrates microeconomics' relevance and usefulness with new coverage and examples, and an improved exposition that is clear and accessible as well as lively and engaging. With Microeconomics, readers will be able to fully appreciate how a modern economy functions.
This product will be supplied on the Vital Source Bookshelf platform which  gives you access to your ebook and a full suite of study tools on any device—both online and offline. Click the link below for more details.
https://support.vitalsource.com/hc/en-us/articles/4403853719191-Bookshelf-eTextBook-Features
Full instructions on how to redeem your code will be sent to you upon purchase.
Adding product to your cart
Use left/right arrows to navigate the slideshow or swipe left/right if using a mobile device