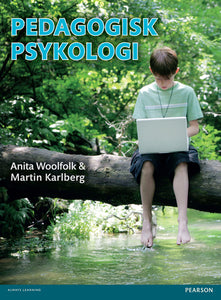 product title:

Pedagogisk Psykologi, 1st edition e-book

ISBN: 9780273761891

* You will receive the access code for digital products between 24 to 48 hours.
Anita Woolfolk The Ohio State University
Martin Karlberg Uppsala University
Pedagogisk psykologi handlar om barns och ungdomars utveckling, lärande och motivation, men även social och kulturell påverkan på lärande, lärare och deras undervisning samt bedömning.

Pedagogisk psykologi är den perfekta introduktionen i ämnet. Den är användbar för alla som utbildar sig till lärare, om det så är inom förskola, grundskola, gymnasium eller universitet. Boken har en teoretisk utgångspunkt, men också en tydlig praktisk inriktning, och ger läsaren en grundläggande insikt i ämnet under lärarutbildningen.

Boken innehåller avsnitt om lärande och undervisning idag. Den behandlar olika forskningsmetoder och forskningstraditioner, elevernas fysiska, sociala och moraliska utveckling samt teorier och forskning om kultur, mångfald och genus. Vidare presenteras kognitiva, behavioristiska, konstruktivistiska och socialkognitiva perspektiv på lärande och motivation.

Läsaren får en grundlig introduktion till framstående teoretiker som Albert Bandura, Urie Bronfenbrenner, Erik H. Erikson, Sigmund Freud, Jean Piaget, Burrhus Frederic Skinner och Lev Vygotskij. Boken avslutas med ett kapitel om bedömning.

Läsaren får, baserat på de teorier och de forskningsresultat som presenteras i boken, hundratals konkreta råd om hur man kan arbeta för att skapa motivation i klassrummet, hantera disciplinproblem, undervisa elever med kognitiv funktionsnedsättning, hjälpa elever att förstå och minnas, organisera lärandet, uppmuntra kreativitet, främja elevernas självständighet och mycket mer.

Pedagogisk psykologi är en utmärkt följeslagare genom hela studietiden!

Anita Woolfolk är professor i pedagogisk psykologi vid Ohio State University och Martin Karlberg är lektor i didaktik vid Uppsala universitet.
This product will be supplied on the Vital Source Bookshelf platform which  gives you access to your ebook and a full suite of study tools on any device—both online and offline. Click the link below for more details.

https://support.vitalsource.com/hc/en-us/articles/4403853719191-Bookshelf-eTextBook-Features

Full instructions on how to redeem your code will be sent to you upon purchase.
Adding product to your cart
Use left/right arrows to navigate the slideshow or swipe left/right if using a mobile device